Men's Golf Season Update 2/2/21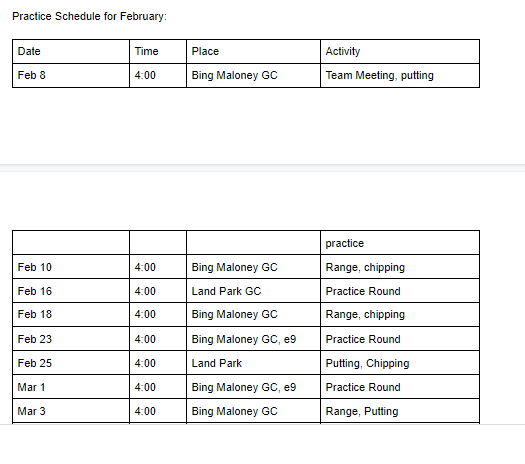 Golf season 2021 is upon us. The CIF-SJS, the governing body of high school sports, is allowing golf and a few other sports to proceed. Following the return to play guidelines set by the Sacramento City Unified School District, the West Campus Men's Golf Team will begin practice on Monday, February 8th. Any interested players will need to meet at Bing Maloney Golf Course at the Cafe's patio at 4:00 pm.
Sports Physicals and Forms – All paperwork to play golf is found at this link: https://westcampus.scusd.edu/node/1132 Please complete the athletic clearance packet as soon as possible.
COVID Safety – Playing golf safely is our focus this season. All players will maintain a minimum of 6 feet between all team members, playing partners, and golf course patreons. A mask must be worn at all times. Keep hand sanitizer in your golf bag. Never touch the golfing equipment of another player or teammate. Coach Spickelmier will not transport students to practice or matches this year. All players must arrange their own transportation. The golf courses are not typically crowded in the middle of February but as Spring arrives the golf courses will become quite crowded, so this season I am limiting our team practice sessions to two days per week. Good common sense and following of all guidelines will help to ensure a safe and fun experience. Read this article: https://golf.com/news/playing-golf-coronavirus-expert/
Uniforms – Last season we did not get a chance to use our uniforms so we will use the uniform from last year. If you require a uniform, you can purchase your uniform at this webstore: https://teamlocker.squadlocker.com/#/lockers/west-campus-high-school?_k=tx7c31 Please order as soon as possible as they take up to three weeks to deliver.
To Make the Team – I will limit the team to 10 players. Due to the abbreviated schedule and limited practice time, I prefer players that have some golf experience.
Money Matters – Fundraising will not occur this year. A donation for rangeballs is appreciated but not necessary. Match fees will be covered by the school. All players must have a Youth on Course card so that practice rounds are free.
What to do:
Fill out paper work
Show up to the first practice on February 8th
Order uniform
Thank you, Coach Spickelmier