Black College Expo @ Sac State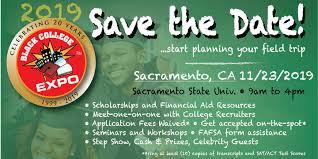 2nd Annual Black College Expo
Presented by National College Resources Foundation
FREE ADMISSION
Register here: https://www.eventbrite.com/e/2nd-annual-sacramento-black-college-expo-tickets-63937825758
EVERYONE is welcome…Open to students of ALL ages.
High school seniors and juniors and college transfer students: Meet one-on-one with top Historically Black Colleges and Universities (HBCUs) and a variety of other colleges and universities, including CSUs, UCs, and community colleges.
Get accepted on the spot. High school juniors and seniors: Bring your transcripts and ACT or SAT test scores. College transfer students: Bring your transcripts from all colleges you have attended
Scholarships on the spot
Application fees waived
Career opportunities
Cash for College Experts "Live" on site helping students and families fill out financial aid forms.
Black College Expo™ is from 9am to 2pm and the After Show from 2pm to 4pm, featuring a Step Show, "Dance Off" for Cash, hosted by celebrity guests. Meet BET's The Westbrooks, Special Educational Presentation by TV's Love & Hip Hop Hollywood's YoYo. Plus we give away book scholarships on site to college students! Win cash and prizes!
For more information, call (877) 427-4100 or visit www.thecollegeexpo.org/events/sacramento-black-college-expo.