Sacramento State's Full Circle Project
For WCHS Class of 2021 Asian/Pacific Islanders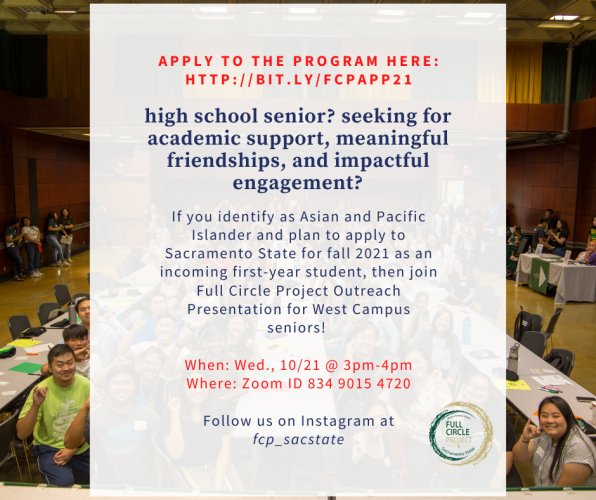 WHO: Asian/Pacific Islander seniors who plan to apply to Sac State for fall 2021
WHAT: Presentation by the Full Circle Project at Sacramento State
WHEN: Wednesday 10/21 @ 3:00-4:00 p.m.
Zoom ID: 834 9015 4720
West Campus seniors are invited to this virtual presentation by the Full Circle Project from Sacramento State.
Asian/Pacific Islander students who plan to apply to Sacramento State for fall 2021 are encouraged to also apply to the Full Circle Project (FCP). The FCP deadline is March 21, 2021.
FCP helps students thrive in college. The mission of FCP is to increase the graduation rates of Asian and Pacific Islander (API) students at Sac State through academic support, leadership opportunities, and community engagement.
If learning, building friendships, receiving support from professors and staff, feeling a sense of belonging, and developing a career plan are important to you, then you should apply to FCP.
For more information, see the attached documents under "Related Links" (to the right or below, depending on your device) and please come to the virtual presentation for West Campus seniors on October 21.