2021-2022 West Campus Cheer Tryouts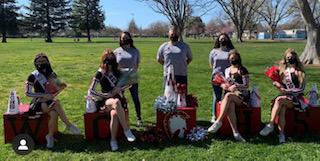 Hello Warriors,
If you have spirit and you know it, and you really want to show it, then join us at the cheer tryouts for the 2021-2022 season. Please contact West Campus Cheer westcampuscheer@gmail.com if you have any questions.
Normally, seniors are recognized at the last home athletic event. Thank you to Coach Ernesto and Coach Mayra for going above and beyond to recognize our athletes! You can access the Senior Cheer Celebration (here).
Alondra (4 year Cheer commitment- Captain)
Kathryn (3 year cheer commitment- Flyer and Base)
Layla (4 year cheer commitment-Co-Captain)
Susan (4 commitment-Base)