Feel Good Friday: Stellar Students and T.O.Y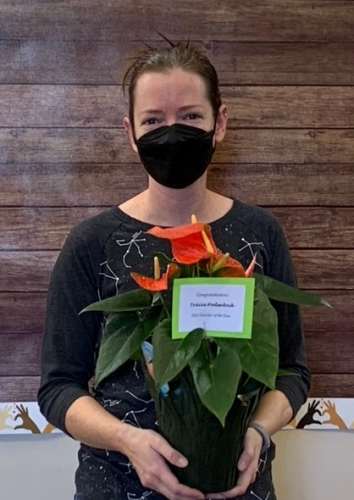 At the SCUSD Board Meeting, 11.4.21, James Dolittle '22 and Adina Aaron '22 were honored as SCUSD's Stellar Students of the month. Per Dr V's nomination:
James Doolittle (12) is a stellar student that completely took the lead on implementing mental health support for students at West. He created the wellness digest (weekly publication that goes out to students) and is partnering with Dr. V to form a "Speak on it" podcast to strengthen student voice on social justice issues.
Adina Aaron (12) is also a stellar student who earned ACSA's Every Student Succeed Award. She led efforts to reactivate BSU at West Campus and partners with administration, monthly, to advocate for targeted support for BIPOC students.
Last, but certainly not least, the celebration continues for our very own Teacher of the Year, Mrs. Podsednik. Not only did she earn TOY for SCUSD, but she also was recognized as TOY by Sacramento County Office of Education. In this picture, she is enjoying one of many perks for being teacher of the year: a personalized plant to symbolize the "seeds" of hope that she plants, daily, in the lives of her students and colleagues. We Love you Mrs. P!
See you at the dance this evening,
Dr. V