Green Week @ West Campus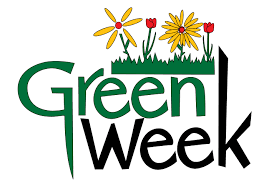 MONDAY 10/18 — Food Waste
We have been working with the Sacramento Breathe Program to implement a food waste program on campus–we are one of the first campuses in SCUSD to do this. There will be 7 official waste stations located around the quad made up of a garbage bin, a recycling bin, and a food waste/compost bin. Although we are labeling it as Food Waste Monday, this will be continuing for the duration of the school year. Green Team members will be located by the waste stations to monitor the contents in each bin and prevent contamination of each bin's contents for the entire week as we educate the student body on what goes in each bin. Please be mindful when disposing of your waste and ask if you are unsure of what goes into each bin!
TUESDAY 10/19 — E-Waste Drive
It's time to clean out your garage — Acceptable (see below) electronic waste will be collected from families on Tuesday from 7:15am to 3:30pm at the northeast doors of the cafeteria — accessible by the cafeteria parking lot (through the Mark Twain Elementary entrance).
***NO Computer Monitors/ TVS/ Batteries/Lightbulbs ***
List of acceptable items:
Computer towers
Laptops
Servers
Calculators
Stereo Systems
Keyboards and Computer mouse
Cell Phones
Speakers
Telephones
Misc. Wires & Cords
WEDNESDAY 10/20 – Walk, Carpool, or Bike to School Day
Students, wear your respective class colors (yellow, red, green, or blue) and send a picture/video of either carpooling, walking, or biking to school prior to 8:10am to the Green Team's Instagram by tagging @greenteamwc or sending it directly to them through direct messaging.
THURSDAY 10/21 — Reusable Water Bottle Day
Bring a reusable water bottle/cup to school- this does not include thin plastic bottles, red solo cups, or Gatorade bottles. We are trying to promote the use of reusable bottles. Students and staff will be checked in 4th period classes, similar to a spirit check, but by Green Team members.
FRIDAY 10/22 — Outside
Thank you!
Anne and Ava (GT President)