Seal of Biliteracy Celebration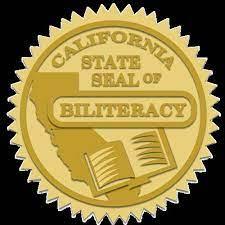 Please celebrate the following students for pre-qualifying or passing the SCOE language exam for the State Seal of Biliteracy! Please join the virtual SCOE Seal of Biliteracy Recognition Ceremony on Wednesday, May 5th at 4:30 pm:
Additionally, these students qualify for a California Association of Bilingual Educators scholarship. The deadline is April 28th, so please apply asap. We are so proud of you! Go Warriors!
| | |
| --- | --- |
| Rigoberto | Aceves Fonseca |
| Devon | Akiyama |
| Nyssa | Alvarado |
| Elena | Alvarez |
| Ana | Arias |
| Sophia | Arroyave |
| Jordyn | Baker |
| Irene | Barradas |
| Madison | Bennett-Wells |
| Marlena | Biggar |
| Sydney | Bruce |
| Aidan | Bushman |
| Jesse | Calderon |
| Tatiana | Campbell |
| Emily | Carmona Trujillo |
| Alexsandra | Carrasco |
| Kaylie | Chao |
| Alondra | Chavez |
| Lawrence | Chen |
| Yaowei | Chen |
| Yuriel Alaine | Chiong |
| Jenica | Chu |
| Tomas | Cordero |
| Lucy | Cress |
| Julia-Ana | Cruz |
| Katrina | Dang |
| Mandie | Dau |
| Amaya | De La Torre |
| Velta | DiGiorgio |
| Katelin | Dui |
| Ryan | Durrett |
| Bradley | Elkin |
| Kate | Ertl |
| Annie | Fang |
| Andrew | Ferrara-Jones |
| Leanna | Figueroa |
| Gael | Fonseca Gutierrez |
| Aaliyah | Garcia |
| Gene | Garcia |
| Zack | Giang |
| Kalvin | Gong |
| Noemi | Guzman-Cruz |
| Diana | Hernandez-DeLeon |
| Dung | Hoang |
| Genevieve | Hornback |
| Lillian | Huang |
| Lilian | Huynh |
| Allan | Hy |
| Zuriel Erikson | Joven |
| Owen | Karlsen |
| Leah | Karren |
| Kara | Kassis |
| Devin | Khamphanh |
| Marissa | Kim |
| Katelyn | Knapp |
| Jack | La |
| Aikien | Lam |
| Ammy | Le |
| Jonathan | Lee |
| Acsah | Lemma |
| Carlos | Lopez |
| Jimmy | Lopez |
| Tommy | Luo |
| Brannon | Luong |
| Elvin | Luong |
| Li | Ly |
| Michelle | Ly |
| Anna | McFatter |
| Mia | Medrano |
| Angela | Mendez-Esparza |
| Stephanie | Miranda |
| Camille | Morris |
| Ella | Mortensen |
| Peter | Ngo |
| Sarah | Nguyen |
| Benjamin | Nixon |
| Estrella | Ortega |
| Allysa | Pen |
| Nadia | Pena Vazquez |
| Andrea | Perez |
| Galileo | Perez |
| Mariana | Perez Sierra |
| Megan | Pham |
| Ethan | Pitts |
| Ana | Pizano |
| Sylvan | Quady |
| Mia | Ramos |
| Rebeca | Rincon |
| Maarten | Rios |
| Xavier | Rodriguez |
| Alondra | Rossi |
| Yao | Saechou |
| May | Saefong |
| Claire | Savage |
| Cynthia | Segundo |
| Annabella | Sobrato |
| Liam | Sullivan |
| Ethan | Szeto |
| Shanthoshi | Thamilseran |
| Susan | Thunen |
| Lillian | Toby |
| Viviana | Toney |
| Luke | Torre |
| Emily | Tran |
| Betsabe | Trinidad Martinez |
| Sarahi | Vallejo |
| Danna | Vargas Rodriguez |
| Karina | Vasquez |
| Alice | Walker |
| Lauryn | Willard |
| Zhi Qi | Wu |
| Juliet | Yang |
| Lincoln | Yang |
| Danny | Zheng |