West Campus Gala is March 28
Save the date--and sign up to help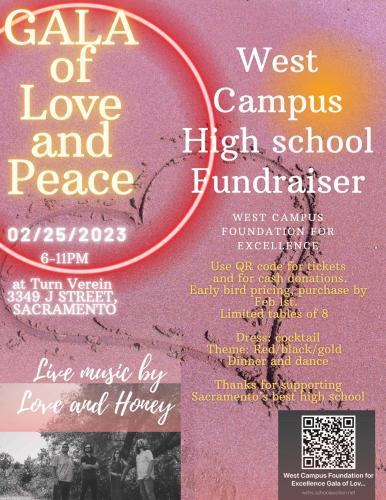 Save the date! Our school's biggest fundraising event of the year is happening Saturday, March 28, from 6-10 p.m. at the Sacramento Turn Verein, located in East Sacramento. All West Campus families and their friends are invited to this fun adults-only event. Stay tuned for ticket prices and details!
Bid on auction items and enjoy great food and drink while you visit with old and new friends from our campus community. Every dollar raised at the gala pays for programs and supplies that our school budget is unable to cover.
We need you!
Planning for our most important fundraiser is underway now. Please consider lending your time and talent to this effort. The next gala planning meeting is Tuesday, January 7, at 6 p.m. at Cafe Dantorels in Curtis Park, 2700 24th St. 95818.
Can't make the meeting? No problem. Reach out and let us know how you'd like to help. All ideas welcome! We are looking for event sponsors, auction donations, and parent volunteers for planning, decorating, and most importantly to help promote this great event.
For more information, contact: