WOW! That's Engineering
March 27-28 Conference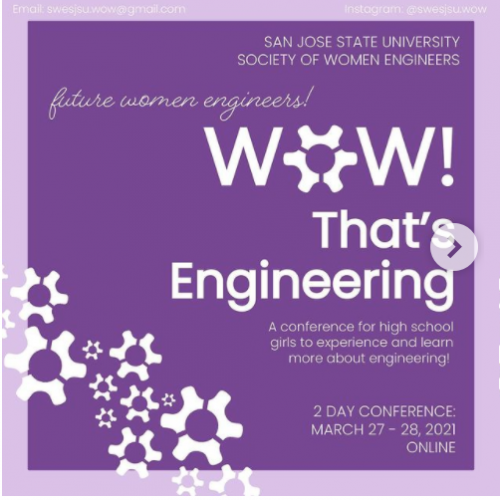 WOW! That's Engineering is an award-winning conference that has garnered 90+ high school girls in attendance the last few years.
Learn about different engineering fields through workshops and design activities hosted by industry professionals. Notable companies include Lockheed Martin, Johnson & Johnson, Arlo, Langan, Fastly, and Blach Construction.
Our keynote speakers and college panelists are excited to share their experiences and valuable advice.
In an engineering design challenge, with judges from Google, students can present solutions to an environmental issue and win prizes, such as Nintendo Switch Lite.
All students will receive a goodie bag with workshop materials and swag.
This is a great opportunity for high school girls to make new friends, understand what it takes to be an engineer, and consider academic options in higher education.
WHEN: Saturday: March 27-28
WHERE: Gatherly (virtual)
COST: $5 (Please email us for a code if you have any difficulties with this cost)
REGISTER: http://bit.ly/3pj6RnV
Follow us on Instagram: @swesjsu.wow (main updates/info!)
This event is hosted by Society of Women Engineers at San Jose State University.