CSUS Full Circle Project — info session 10/21
Asian/Pacific Islander Students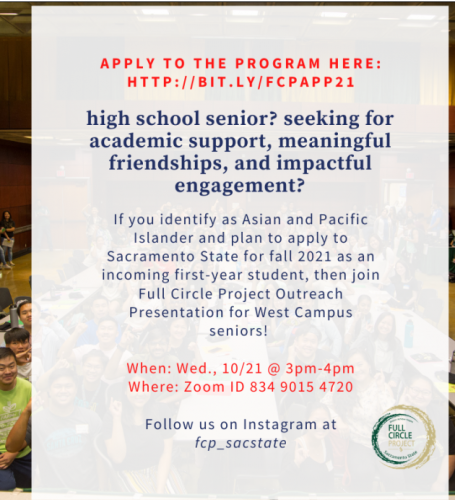 Come to a Zoom info session on Wednesday 10/21 @ 3-4pm. Click here for details.
The Full Circle Project (FCP) 2021-2022 Application is now open for any graduating high school seniors who are applying to California State University, Sacramento.
FCP's mission is to provide a student-centered approach to steadily increase the graduation rates of Asian and Pacific Islander (API) students through academic support, intentional student organizational and leadership opportunities, and meaningful community engagement events.
If you are a graduating high school senior and plan to apply to Sacramento State for fall 2021, we highly encourage you to join the Full Circle Project.
We care about your transition from high school to Sacramento State, including your journey with us in the next four years. We provide services and resources so our students thrive in college.
Application Link: http://bit.ly/fcpapp21
Learn more about FCP: https://www.csus.edu/center/full-circle-project/
Deadline to apply: March 1, 2021
If you have any questions, contact our FCP Counselor, Mindy Moua, at mnm266@csus.edu.
"You're more than just another student to the Full Circle Project; you're part of our community!"